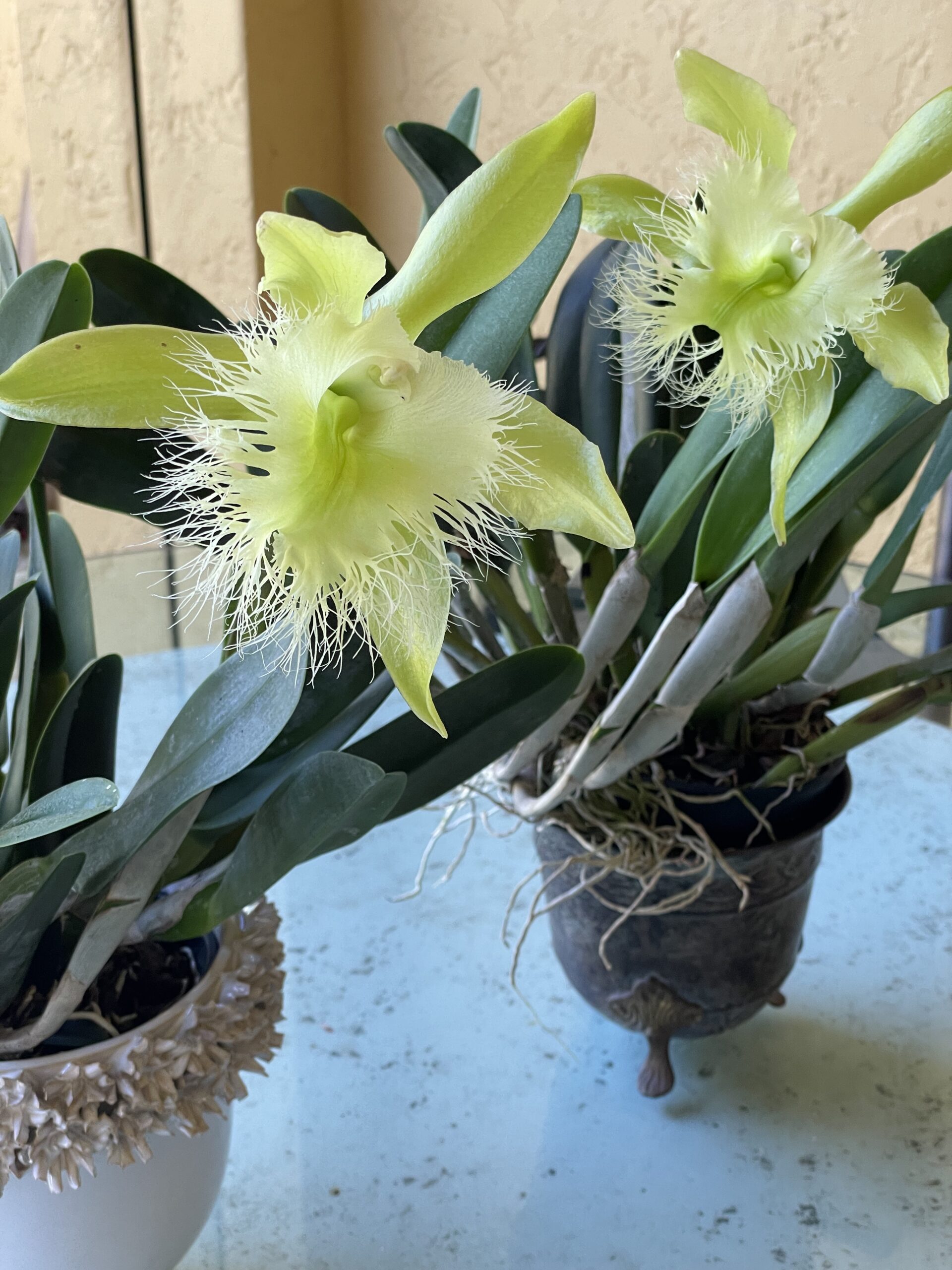 December.   I have a love/hate relationship with this month.I think its all about striving  for perfection, trying to find it in the gifts, the decor, the menu  etc..Adding to that is the traffic with people who are always in a hurry.
To relieve my stress, I turn to my orchids in the garden. This is the time of the year for orchids when its all about the enjoyment!  They have worked so hard trying to come back into bloom, now is the fun part!
Last spring, I separated this beauty into 2 plants, so yes this year they are both blooming at the same time!  The lime green is so vivid and it lasts about 3 weeks.  I call it a mustache orchid but real name Im told is rhyncholaelia digbyana.
December  usually brings some unique Botanistix requests.  A client wanted to surprise his wife with a replica of their beloved bulldog, so he found a crystal one online 3/4" x 2".  I made it up  and the bulldog looks like it was made to be a Botanistix! I would have liked a little more sparkle on him, but the client wanted his male bulldog to  be more masculine.
Another client wanted to give her daughter a botanistix as a Hanuakkah gift but she wanted her daughter to make the selection.  So now, after 13 years, I do online gift certificates!
Another request that is currently being worked on by my glass blower-whales tale/mermaid's tale.  Who knew these were so popular and elegant?  I am hoping to receive these in December but not sure yet.  Stay tuned!
So whatever it is about a Botanistix that you might like to make "your own," reach out to me and lets try to make it happen.  I am listening to requests because I am always trying to find different things of interest  for my varied client list.
This is my foyer arrangement for the month of December.  I dont usually buy the waterfall orchids but for a change, I like it.  I used the 2 hanging bow Botanistix which is so appropriate for the gift giving season.
The class schedule is up to date on  
Botanistix.com
.  so check it out for an orchid or topiary class starting in January. Fun way to spend some time with a friend and enjoying new people with similar interests.