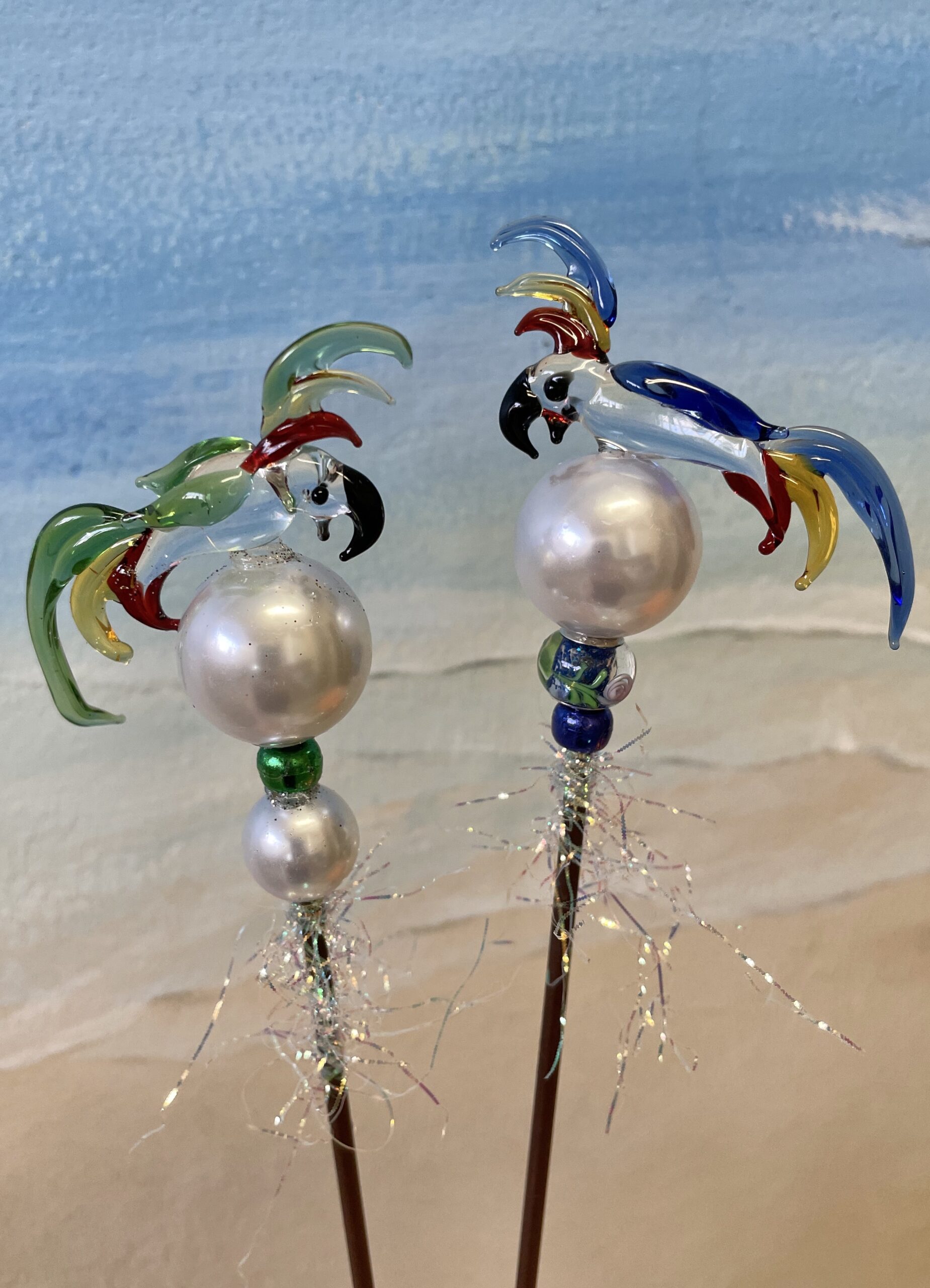 Here is a quick look at the newest hand blown glass Botanistix designs.
My glassblower said he made a mean parrot, so he whipped a few up for me to see and yes he does! Your eye immediately notices the multi colors on this bird, it makes you take a second look. That alone, makes these birds unique next to a flower's bloom!
I know you all like the bees, so I brought back the blue bee from 4 years ago, just for some variety. We still have the traditional color too.
The starfish are so inviting. The blue is very unique, more of a periwinkle and the pink is a very soft beachy-creamy color.
Being in Florida, we love our fish! I kept the green and coral colors as in the past, but just to add some fun, I chose the large red lipped version. The correct name is Cheiloprion labiatus or Big-lip damselfish, who knew?
The hummingbirds are such a favorite of yours, so I chose Lilac as a new color. Lilac is related to tranquility, peace and friendship. All things we can use more of, correct?
So this is what I have been doing in between the summer storms. They will be on the website in September.
Olive is very happy we will be heading to the mountains later this month and leaving the thunder behind us. We will return after labor day.
After escaping the heat and rain, we will return refreshed and happy to plan for our Tuesday November 9, 2021  Open House. Mark your schedules 11-5pm or by appt. (9171 Torrefino Ct, TerraBella in Pelican Marsh)
I have added 25 orchids (mostly dendrobiums) to the trees so after all of our rains, I am hoping to see a lot of new blooms in September/October…there should be something that comes from this much rain aside from roof leaks!  The dendrobiums are in bloom during the open house so that is always a treat!
Reach out if I can help, you know how to find me!
😍