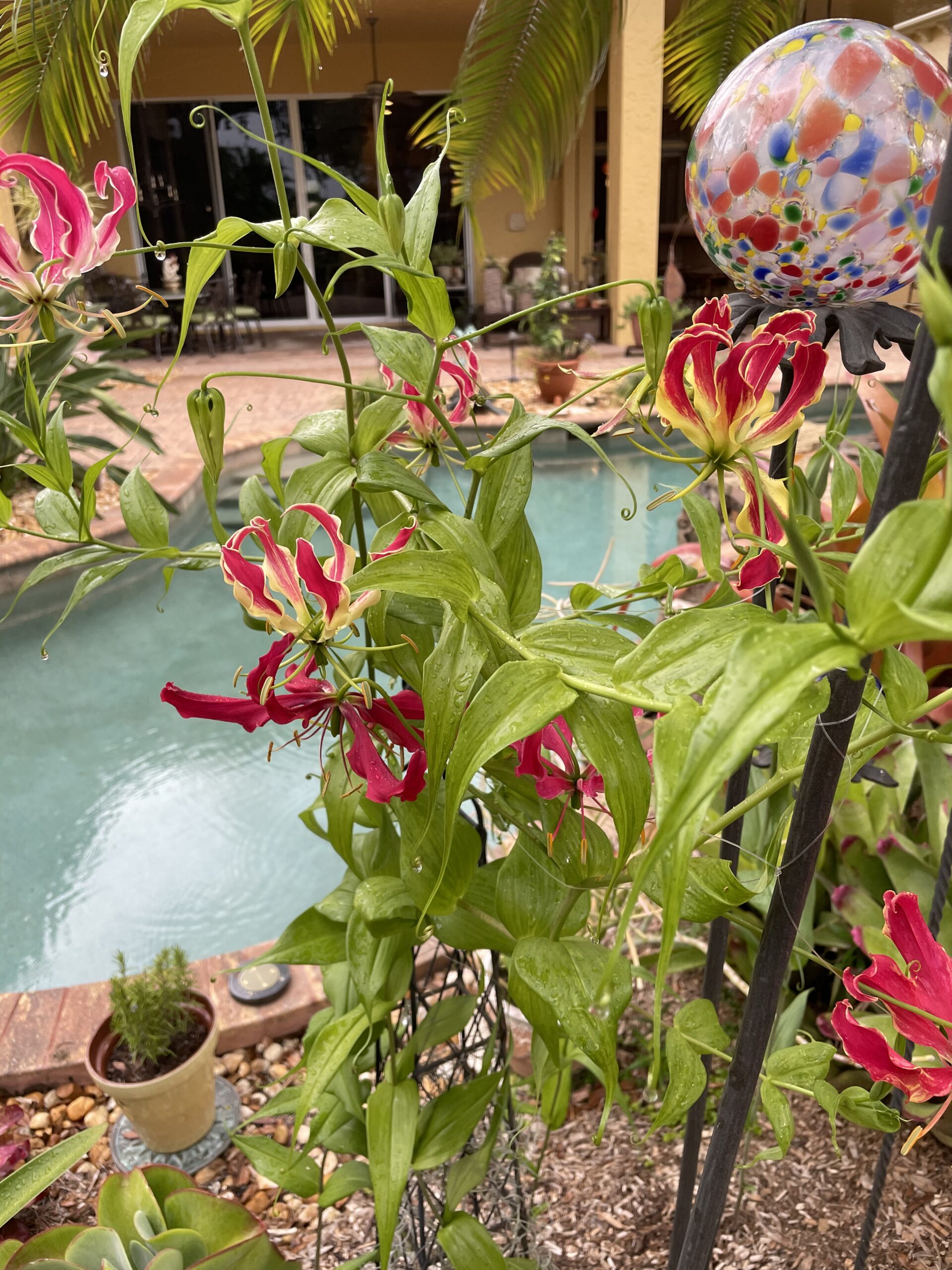 Of course these gloriosa lilies make me smile! I bought these bulbs at the Philly Flower Show and they are so showy
Although June is getting so hot, this phalaenopsis decided now is the time. And it is just perfect with no inclusions on the leaves at all. When your orchids live outdoors here, you overlook a lot of minor imperfections especially on the leaves. Of course when they come into bloom, no one is even looking
Those who came to the orchid classes this winter may remember this unique Trader Joe's medium sized orchid from 2020 It was in bloom at least 6 months and it had a very long curled stalk. The stalk was so unusual, I babied it where I could keep an eye on it. It developed a kiki this winter which made the top of the stalk even more precarious due to the weight. Kiki's cannot be planted until they develop roots and just as this one developed roots, it was also shooting a stalk upward which is now in bloom! Never seen such a thing and all done pretty quickly! The stalk and the bloom is over 30 inches long now so I treat it very gingerly. When the bloom is over I will plant the kiki and remember the entertainment I received from my 7.99 TJ orchid!
Those at the classes will also remember the wonderful orchid just outside my DR window. Over the years, it has been an unbelievable bloomer but the change of the season sun did a number on this one. I lost track of it mentally in April and looked at it one day and could not believe😳. This will be an experiment for me. The leaves are badly sunburnt which is so bad for phalaenopsis since they hold water in the leaves. The damaged leaves weaken the plant overall then it is open to other issues. I will be replanting it, babying it and seeing what else I can do.. I always remember the good, long bloomers and since orchids are very hearty, I am hopeful!
FYI, I am still making the decorative hat bling but since they are not on the website, you need to contact me directly. Also open to any requests for next season for them.
My glass blower is working on 2 new designs which I have not picked up yet, so I will save that for next time.
Reach out if I can help, you know how to find me!