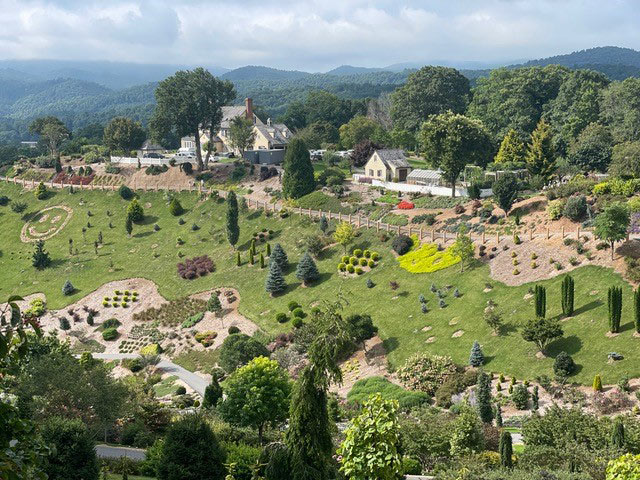 While away, I was lucky enough to find out about a private 26 acre garden that offers Friday private tours. Arborcrest Gardens in Boone, NC is a nonprofit botanical garden. The Friday tours are by reservation only and are No Charge to those lucky enough to attend. Fourty years ago Dr Ronald Stanley purchased 50 acres and slowly developed 5 acres around the home. That gradually expanded to 26 acres it is today. They started Fridays open to the public in 2019. At 76, Dr Stanley still works 2 days/week at his dermatology office, which has been the major source of funds for the garden. There are only 3 full time employees which is amazing!
We walked the gardens and it was a very hilly workout! The beautiful large stone steps are everywhere as are bridges and seating made from trees. All the plantings are labeled so it's never a question what you are looking at. It reminded me of Butchart Gardens in Victoria, Canada.
The photos do not do it justice but…. If you will be in the area, go online and try to get a reservation either riding or walking. I will go again next year and possibly ride as he says the experience is different each way.
When I arrived back, my dendrobiums greeted me from everywhere, tis the season. One of my potted dendrobiums in a small 3" pot has 6 stalks! The dens really benefit from our summer weather! They can take the rain and love the humidity. The phalaenopsis do not love the excessive rain, I lost several but that happens each year.
Yes we are having the Fall Open house! This years location is in Pelican Bay at St Tropez on Thursday November 10th from 11-4pm. They have orchids planted on their trees & hanging from baskets in their pool area. I will show some of the new designs as we move toward November. As always, if you are looking for something unique, get in touch. I am attending a show in Oct so I can always source there too.
Very soon I will have the dates on Botanistix.com for the 2023 Orchid club meetings at my house which now are no charge! Come exchange & learn with others who love orchids. Its a great way to spend a morning!